FLOWERS FOR WEDDINGS & CIVIL PARTNERSHIPS:
Flowers play a major role in weddings and involve a lot of careful and meticulous planning.
Manor House Flowers work closely with their clients to choose and create bridal bouquets and floral decorations for their chosen venue.
In our experience, we find that many couples celebrate their wedding in Church and flowers play a very important role in that celebration and they often want to dress the Church in flowers.
Every Church is unique and different and there are many areas where flowers can be arranged easily and simply to great effect.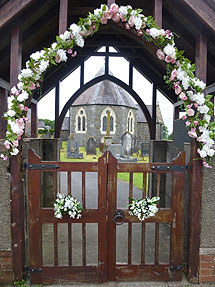 LYNCHGATES:
Dressing the Lynchgate or entrance to the churchyard with flowers is a way of welcoming your guests to your marriage ceremony.
There are a variety of ways to dress a Lynchgate or a wrought iron gate.
The most popular design for a Lynchgate is to make an arch of flowers on the top following the line of the shape of the gate. Traditional 'gate shovells' can also be place on the gate using fresh green foliage and flowers to get that perfect effect. A photographer's dream picture opportunity!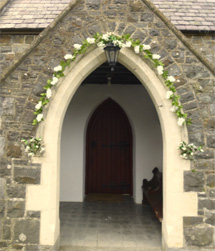 CHURCH DOORWAYS:
The doorway is another area that can be dressed either with an archway, pedestal or topiary trees either side.
Some clients prefer to have a half moon arch over the Church door to accentuate the top of it. These are often attached softly to the stone work or wood and are visually stunning.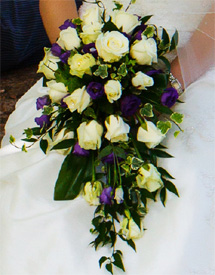 BRIDAL BOUQUETS See more in gallery page
Shower Bouquets- Tear drop shaped trailing design made into a holder.
Most shower Bouquets create a traditional look but can be adapted to suit a modern bride.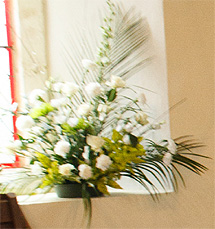 WINDOWSILLS:
Many Churches have porches and flowers can be place either side in Church stonework or on windowsills.
They are a popular choice for wedding flowers.
In large Churches they can make the Church feel full of flowers highlighting beautiful stained glass windows.



WEDDING PEDESTALS:
Pedestal arrangements are very popular in Churches and at Civil Ceremonies.
Lesley and Victoria's passion for floral design and creative expertise are the guiding forces behind the success of Manor House Flowers.
Our bespoke creations in floral wedding pedestals sets us apart from the rest.
The Manor House Flowers team pride themselves in giving that personal touch clients need in creating breathtaking works of art, ranging from the simple to the elaborate.
The art of floral design is one of the most important aspects in creating the ambiance of a wedding or a special event.
All our clients come to Manor House Flowers with a vision representing their unique style and we work on your design ideas to enhance your ideas and create an event beyond your dreams and expectations.
We utilise premium floral varieties of pedestals, tailored coloured schemes and original design with each of our clients to create truly memorable occasions.
'Our greatest influence has always been our clients'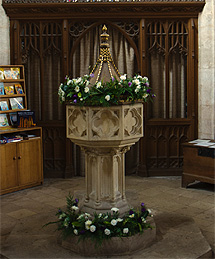 THE FONT:
A wonderful and poignant feature of any Church as you enter through the main door.
Many fonts are vary ornate and elaborate and make an excellent focal point.
They can be decorated with flowers around the base and the top with pretty garlands of flowers. Garlands can also be place around the top.
A cascading font can also be created with beautiful voiles of fresh ivy flowing from a grand centre piece.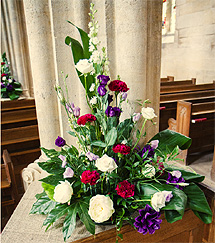 CHURCH PILLARS;
Many Churches have pillars on either side of the aisle which can be dressed with garlands of delicate flowers.

The Pulpit and Church lectern can also be dressed with garlands of flowers.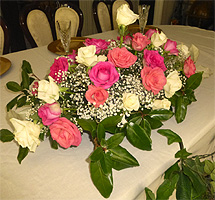 TABLE TOP DECORATIONS
Our wedding table decorations will brighten your wedding reception venue - whether it be a civic hall, community centre or stately home. Whatever you choose for your wedding reception flowers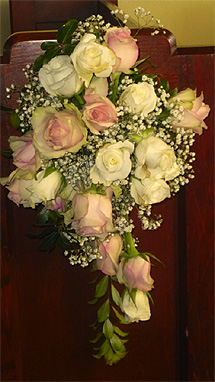 CHURCH PEWS:
If you decide to place bouquets of flowers on the pew ends, we recommend that the flowers be placed either side of every other pew as this gives the best visual effect.
Other simple arrangements, like single flowers and ribbons can be placed on every pew end.
There are many combinations that can be utilised to give maximum visual effect to pew ends, particularly if the Church is large
Apart from flowers, you can use matching organza voile bows to match the colour of your bridesmaids dresses; satin or organza ribbon; tiny boules of Gypsophyllia; pearl hearts and a variety of other wedding accessories could be used to decorate the pew ends.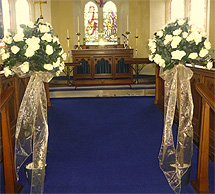 Rose Trees: see more in gallery page
A wide variety of decorations can be chosen.


ROOD SCREENS:
Some older Churches have a Rood Screen separating the main part of the Church and the Choir and High Altar.The Rood Screen itself or the Choir Stalls can be dressed with flowers giving a very imposing effect.