Manor House Flowers Cwmffrwd has experience in flowers for Indian Weddings "Asian Floral Couture"and are happy to discuss your requirements today.

At Manor House Flowers we embrace preserving different cultural traditions.
Our Asian Wedding Mandaps and Manuvarais come with Ivory and Gold matching pillars and aisle pillars, and a beautiful gateway, as you make your way down the aisle to the Mandap of your choice.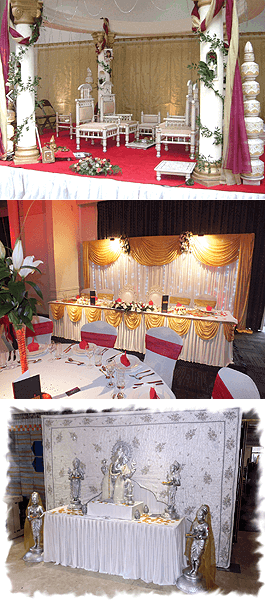 We also provide a host of different types of flowers for you to choose from and have beautiful Instrumental Ganesh Ji Ki Murtis for each pillar.
We can offer two designs of Mandap; round or square Roman designs and also a Manuvarai, which are tastefully designed to suit your individual requirements.
Whether you want exquisite and luxurious or simple and traditional, Manor House Fowers will create a breathtakingly beautiful design just for you.
We understand the importance of the Hindu Marriage Ceremony, with its rituals and religious significance, and we work very closely with you throughout your day.
Manor House Flowers can also provide Patla and Bajot and Havan Kund for the ceremony if required.
Whatever your guest numbers are for your venue, we can create an individual quotation for you.
So, please enjoy our photographs and our work, and contact us to make your day simply perfect!
Manor House Flowers is proud to present "Asian Floral Couture".
We have recently created a beautiful Hindu "Manavarai" for a client in London and can now provide Mandaps and Chuppah for Jewish Weddings in Wales scross the UK.
Colour, large arrangements, and stunning oriental vases are central to an Asian Marriage or Blessing Ceremony with a rich abundance of flowers.
Here are a few designs created recently for our Asian Wedding Fayre in London.
We hope you like them!